Herbal Apprenticeship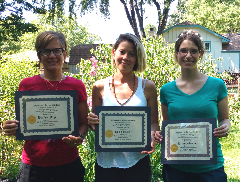 We also offer an herbal meetup group (separate from the Apprenticeship Program) that meets every other month. Join our meetup group here! http://www.meetup.com/The-Herbal-Gardening-Group/
Discover Medicinal Herbs
Each year Gardens of Delight offers a hands-on program on medicinal herbs. This very ancient method of using plants and plant oils for bringing relief, comfort and healing to the body, mind, and spirit is very comprehensive. We study each system of the body, and those particular herbs and essential oils which will bring balance back to that system.
Growing Your Herbs
This is an opportunity for you to learn how to start herbs from seed, and design and plant your own garden, harvesting herbs from the garden, preparing extracts, making salves and lotions, and skin care products. The Intro class is free and is held in August.

Cost:

Each class after the intro is $250 and meets once a month.

Anatomy - follow the systems of the body, their function, internal location and the requirements for bringing that system into greater balance.

Herbal support - learn the related herbs which support that system, discover therapeutic actions of herbs, blend herbal preparations through hands-on experience.

Herbal First Aide - learn how to create your own personalized herbal home first aide kit.

Plant life - learn plant names, and classifications, glossary of flower and leaf terms, take herbal walks, and plant identification .

Healthy pot luck lunch - students provide an herbal dish and a recipe for each class.

Growth of Herbs - learn requirements for herbal growth, seed and plant starting, herb garden planning, and planting.

Harvesting - learn which parts of the plant to harvest, time of day, drying, and storage methods and seed saving.

Herbal Preparation - learn to make high quality herbal tinctures, salves, infusions, decoctions, and herbal oils.

Plant Spirit Medicine - learn to deeply connect with the plants and how to work with their spirit and essence.

Flower remedies - discover homeopathic plant essences, their use and effect.

Essential oils - learn therapeutic qualities, blending, and healing through the use of oils.

Call 816-584-0777 to begin!

Testimonies: "I learned more than just "how to." I learned what-to, where-to, and why to use herbs and essential oils. It was so much fun!"
W. Kringle Kansas City, Missouri

"This was an amazing year of learning about plants and their healing power. I've learned so much and found the friends made there, truly magnify the beauty of nature, always helpful and supportive." S. Campbell, Independence, Missouri

This apprenticeship has deepened my connection to myself and the earth. I feel my life is enriched by all the amazing smells, flavors and energies that plants and herbs have to offer. Not to mention how good I feel after each class, I look forward to recreating this in my daily life

This course keeps the ancient knowledge alive and I am able to be a clear conduit to passing along the lessons learned here to my daughters.

I learned a lot of useful, hand on practical uses for various herbal based remedies, whether its food, essential oils or medicinal preparations...and it was a BLAST!

I am always eager to come to class because I know that I am going to learn something new and beneficial for my family and others. This class has really given me more confidence in herbs for medicinal use. Lynn has inspired me with her energy and true passion for herbs.

I have learned so much from this course that I will be able to use in my daily life and to help my clients. Classes were wondeful, helpful and fun. It was a great blend of personalities and knowledge.

Lynn's class showed me how to incorporate the plant world into every part of my life, from food seasonings to balancing and tonic herbs or essential oil blends to addressing illness/imbalances in my physical and energetic body. It has been amazing and life changing.

This course with Lynn has been an absolute joy and light in my life. Her voice is so very calm yet holds a power to seep deep into the core of my being. I love all the pods of knowledge that have flown out with grace the past year, the seeds we planted are sprouting love into being.

Lynn is an inspiration to me, her loving teachings and open heart holds space for me to grow with confidence into the person I know I was meant to be.
.